I have been in contact with Kara @innocent charms chats for the last few months on twitter ( @innocentcharmer) and Kara is a remarkable woman who puts her family first and has such a lot of love and kindness to offer those she comes into contact with.
Kara has two beautiful children, a little girl called Addison and a little boy called Grayson.
I have followed Grayson's story on Kara's blog and through this have found out that they are holding a fun day in aid of various charities and to raise funds to buy a trike for Grayson.  Read the information below and look at the expression on Grayson's face when he is trying out the trike they hope to buy.  If there is anything you can offer to help with or if you can attend the fun day please contact Kara here.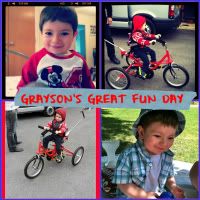 On the 25th August 2012 I am hosting a Fun Day in aid of my little boy Grayson.
The event is about bringing together friends/family and SWAN Children from around the country and not only raising Money but more importantly awareness for children like my little Grayson.
Grayson was born different from most children, but when you look at him you can't tell, Grayson by definition is a SWAN – SWAN is a term given to Children/Adults who have "a Syndrome without a Name" Grayson has brain damage, severe Global Developmental Delay and is physically and mentally disabled. He has a rare genetic condition that may never be found.
You probably won't have heard of many children like Grayson who don't have a diagnosis as they are rare, they are not publicised about as they don't have a "fashionable" condition, this doesn't make them less important or worthy of support and treatment but unfortunately more often than not this is what happens.
So I felt it was time to take a stand, I have been very lucky to have found a fantastic organisation inSWAN UK. SWAN is a charity without any government funding set up by the Genetic Alliance to give families like ours support and a voice for our special babies.
In the past 6 months they have helped my family and Grayson a great deal, supporting us with help/information, introducing us to families in our situations, sending support/love in tough times and I would be lost without them.
So I decided to show my support I would do something that would get people's attention, I currently have a great deal of hair, what would be more startling than a woman shaving her head, so that's what I decided to do, then I thought let's go the whole hog and make an event of it, so I decided to host Grayson's Great Fun Day, the event will not be large and flashy but it will be fun, it will bring people together, children will play, enjoy bouncy castles/face painting and yummy cakes.  My local papers shall come and cover the event and show the support we have for our little boy.
So what is the money we raise going to do.
1. A 3rd will be donated to SWAN UK, as I said above the support they have given my family as a whole this past 6 mths has been unmeasurable, I have found other parents who understand my day-to-day, who can help me fight through the hard times and smile with me on the good days. SWAN are completely reliant on donations and that's why I chose them to be our main charity.
2. The 2nd 3rd shall be given to Cerebra, Cerebra helps Children like Grayson with brain related injuries. Cerebra is a unique charity set up to help improve the lives of children with brain related conditions through research, education and directly supporting the children and their carers. They do not receive any help from the government and rely entirely on the generosity of their supporters.
3. Lastly the final 3rd of donations shall do something greatly important to me. We are fundraising for Grayson to have a TOMCAT trike. The trike estimated quote is £1800, this is more than I can afford on my own, the trike is important for the following reason.
Grayson at 3yo can still not walk or talk, his communicative skills are going to be a struggle and may never come, but physically although his body is weaker than you can imagine and his legs have little to no tone, it is possible Grayson could find a way to move.
Grayson unlike other boys and girls does not get to enjoy going to the park or playing as he is not capable, his weeks are made up of hours of physiotherapy, this is where the trike will help him tremendously! You see the trike will allow him to strengthen his legs and core muscles whilst he is having fun like every other little boy and girl, he will be able to go to the park with his little sister, side by side on their trikes. He won't have to peddle as the special trike will do it for him moving his legs and working his hip joints that are currently failing him.
This special trike will allow gorgeous little Grayson to enjoy a section of his life but also hopefully help him to have a life in the future that he deserves.
So if after reading this you would like to help us, then see how that's possible,
Firstly and the most simple, head over to our Grayson's Great Fun Day Virgin Money Page, where you can donate anything between £1-£1 million
Secondly – We are running 2 raffles on the Funday, one for large prizes and one for smaller, if you feel you have something to offer please do contact me at graysonsGFD@gmail.com any prize would be greatly appreciated and all donations shall be shared on various posts on my blog and receive the recognition they deserve.
Thirdly – If you are in Kent, can you help us, the event is being held in Canterbury, we are on the look out for all types of entertainment and volunteers, most importantly we have just lost our venue so if you can help let me know – graysonsGFD@gmail.com
Fourthly – help advertise this page on the NET, through your blog/website/twitter or Facebook, social media is an awesome way of getting info out.
Lastly – Come join us on the day, we have some wonderful online friends travelling to the event and it shall be better the more friendly faces that come. If you need to stay the night I am happy to research into hotels and campsites dependant on your preference. If you want more details feel free to email me – graysonsGFD@gmail.com
I would like to make a special mention at this point to the incredible and beautiful Sonia of This Mummy Loves, Sonia and I have been friends for over a year now and I feel very grateful to have her in my life, she has got me through some hard times and although we lives miles apart I rate her as my top friend of all times. She is hosting a prize donation on her blog, please go by and see if you can help and show the support.
Thanks all for taking the time to read this page, Grayson is an incredible little boy, what he has lived through in his short life we could never imagine, but he still smiles sweetly and gives the best cuddles you have ever experienced. SWAN children deserve to be equals and enjoy life like all little boys and girls and I will make it my mission to do this.
***As an extra note, my hair once shaved is being donated to an amazing charity called The Little Princess Trust to makes wigs for children who have lost their hair to cancer, if you would like to make a donation to them please do head to their website******